Accelerate time to market and improve customer collaboration and service with SYSPRO ERP
Independent analysts validate SYSPRO ERP software for job shop manufacturers
As a job shop, you're under constant pressure to grow margins, so getting your job costs right is mission critical. Unlike other manufacturers, job shops need to manage tooling and materials on a project-by-project basis, which can create cash flow challenges.
SYSPRO Enterprise Resource Planning (ERP) software empowers job shop operators to manage the challenges like these inherent in the custom-design and order-fulfillment process. With an end-to-end software platform built to meet job shop needs, you can easily connect your operations from product design through production to finance and accounting, gaining remarkable efficiencies.
SYSPRO's advanced planning tools factor in the full mix of jobs in your schedule, the materials they use, the utilization of each item, scrap, rejects and purchasing of lot sizes, as well as supplier lead times, balancing your supply requirements with your demand.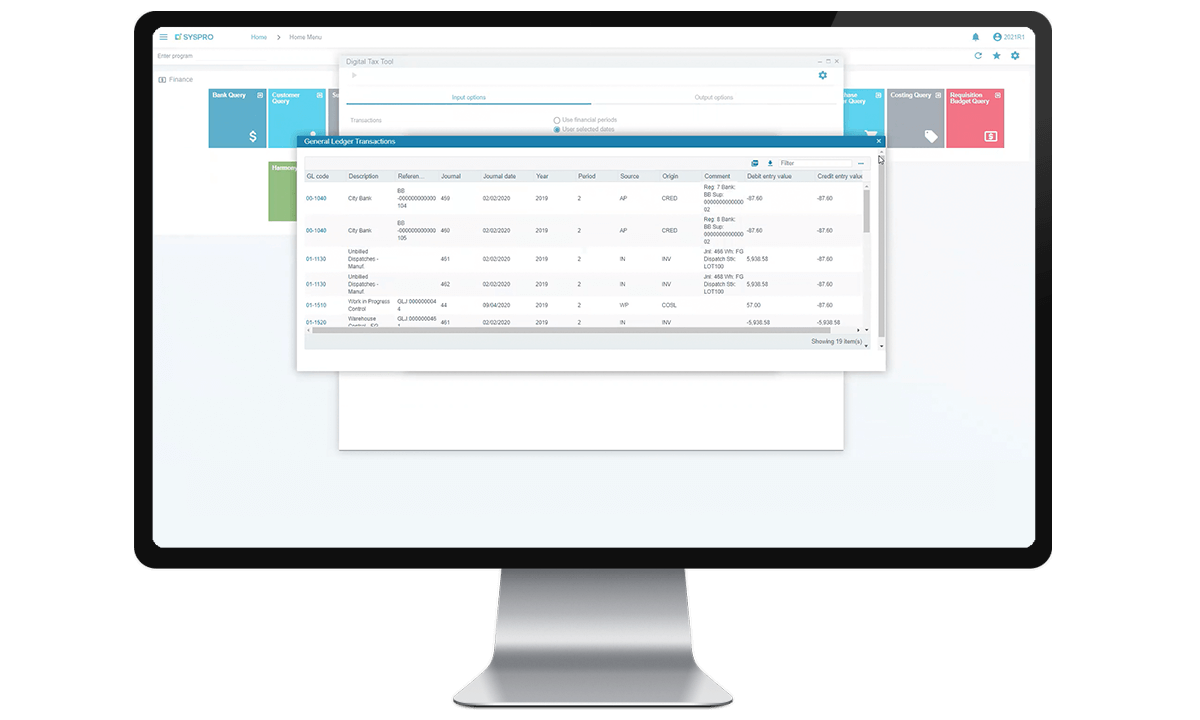 SYSPRO's support of the real-world business needs of job shop manufacturers has been verified by an independent third-party analyst firm, the Technology Evaluation Centers (TEC). Visit our Resource Hub for more analyst reports. Spreadsheets just can't handle this kind of complexity – and manual processes are just too inefficient.
Find out how SYSPRO helps job shop manufacturers:

Improve customer collaboration and service
Ensure quality and on-time delivery
Create more accurate job costing and pricing estimates
Streamline your job shop manufacturing operations.
Collaborate with customers on the design and engineering of products
SYSPRO ERP software enables you to centrally manage and control the product design process. And, with comprehensive security, customization and multi-lingual capabilities, you can foster collaboration with external partners around the globe, providing them with secure online access to drawings and specs.
Control product design changes
Your ability to design new products and modify existing designs, as well as improve time-to-market, is critical to remaining competitive and profitable. SYSPRO provides Engineering Change Control and integration with CAD/CAM systems to reduce errors and improve efficiency.
Improve cost forecast accuracy for contract bids
SYSPRO's estimating functionality incorporates materials specifications, labor and overhead involved in carrying out the specified work, giving you a complete view of costs and lead times for job shop or project-based work.
Accelerate time to market
Short product life cycles mean the speed with which you deliver innovations to the market is imperative to remaining competitive and profitable. With automated workflows and faster scheduling, you can reduce lead time and product life cycles.
Maintain accurate job costs
The work center and structures and routings facilities in SYSPRO ERP provide you with the means to define and maintain the elements required in a sequence of internal or sub-contract manufacturing operations, as well as the structural relationships between parent and component parts.
SYSPRO provides an integrated view of the elements that impact capacity planning, enabling you to identify ways to improve resource management and utilization.
Reduce Work in Progress bottlenecks
SYSPRO's Work in Progress module provides tracking of expected versus actual operation times, so you can identify bottleneck patterns and inaccurate demonstrated capacity estimates.
Track material and operation flow through manufacturing
Easily query the status of your work in progress in terms of costs, material and scrap quantities, labor hours and manufactured quantities. Optional lot traceability and serial tracking functionality enable you to identify the jobs to which traceable raw materials have been issued. This streamlines compliance with industry regulations.
Lets work together to create positive change in your business
Get in touch to find out how SYSPRO can assist you and your business today